Motivational Neon Signs with Words to Start Your Year Off Right
The new year carries an abundance of possibilities. A symbol for fresh beginnings and starting anew, it's also a time in which many of us reflect on our vision for the future. From learning a new language to setting daily intentions, there's no better time to turn over a new leaf than the new year.
The truth is that though choosing a goal or intention is simple, the motivation to keep going may not be. A little visual inspiration and positivity is just what you need to keep moving, one step at a time. Here are motivational neon sign words and phrases to start your year off right and boost your motivation.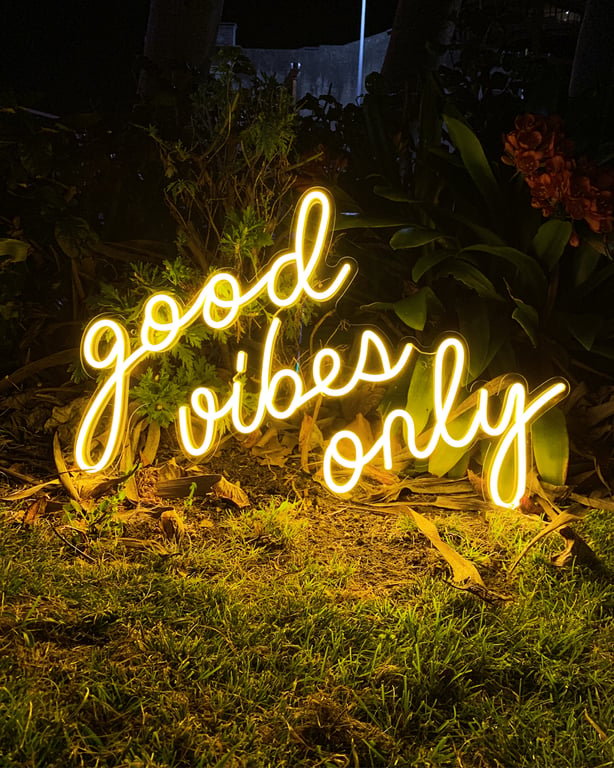 Channel Good Vibes
"Good vibes only" is a popular quote for a reason. All positive change starts with a positive attitude — sure, it may sound cliché, but it's true. Embodying good vibes alters your mindset to focus more on life's positives and feeling gratitude for what you have. It's not about ignoring any and every negative feeling you have, but acknowledging it and letting go.
Ready to let go of that negative energy and embrace positivity? Our Good Vibes Only LED sign is the perfect way to set your intention. Choose your favorite color and hang the bright neon sign of those words in your place to let all the joy, prosperity, and calm wash over you.
Set the Right Vibes for the New Year
The new year is a time for reflection on both our past and future. As we embark into this fresh start and take those difficult steps towards positive change, motivation is a must-have. Words can be a powerful motivator. Set your vibes and intentions for the new year with a bold and bright neon sign with just the right words to inspire you.
Radikal Neon® has a wide variety of eye-catching, easy-to-hang LED neon signs built to motivate you to keep going when things get rough. Customize your lighting vibe now and enjoy free shipping and a 12-month warranty on every order! If you need any help getting started, please don't hesitate to contact us.